TAIPEI -  Alongside a modern fixation on health and wellness, consumer demand for comfortable, breathable, and athletic-inspired clothing is continuing to expand.
The Future of Apparel study, conducted by the NPD group, found that activewear represented 24 percent of total 2018 apparel sales and is expected to grow throughout 2019.
While yoga pants are considered the quintessential athleisure garment, athleisure is be-ginning to expand well beyond simple stretch fabrics into more luxurious high-pile fabrics, such as velvet, velveteen and velour. Indeed, high-pile fabrics made a significant appearance on runways in fall 2018 — and many athletic brands picked up on the trend to intro-duce velvet and velour yoga pants, track suits, and lounge wear to their product lines.
High-pile fabrics are defined by a three dimensional texture with very visible pile of fibers on the surface creating a soft, smooth texture that has long received consumers' adoration. However, modern high-pile fabrics also include sweat-wicking and breathability functionalities — and now, with the addition of sweat-wicking and breathability, they even have a place in modern consumers' workout regimens. Unlike the thick and heavy velvets of previous generations, modern velvet is lightweight, stretchy, and breathable, all while maintaining its soft-brushed finish.
While high-pile fabrics can be produced using weaving, warp knitting and weft knitting, weft knitting is the preferred method for the following reasons:
Superior elasticity and recovery: Form-fitting fabric hugs skin in a soft embrace, al-lowing wearers to move without restriction.
Drapability: Accentuates the fabric's rich texture and enhances the fabric's tendency to luxuriously drape across wearers' bodies
Soft to the touch: A thicker, softer pile fabric enhances its natural smoothness
Better breathability: Keeps wearers snug and warm, without being too stuffy — and is absolutely delightful to snuggle into after a good workout
What is high-pile fabric?
The luxurious, three-dimensional feel of high-pile fabric gives brand designers and textile companies more room to add their own flair to certain clothing styles and bring innovative new products to market.
High-pile fabrics can be used on both outer and inner layers of clothing, whereby different textile sensations and appearances — such as faux fur or printed patterns — open up multitudinous design possibilities. At the same time, the soft, cozy fabric makes an ideal inner lining to enhance comfort and warmth. With pile lengths ranging from 3 mm to 20 mm, the fabric can be adjusted depending on the design or function of the clothing.
2-layer high-pile
Original high-pile fabrics have a 2-layer structure that includes (i) a soft, dense pile top layer and (ii) a fixed pile bottom layer. However, the original 2-layer fabric tended to exhibit pile loss or reverse penetration. Adding another layer helps to reduce pile loose and improve fabric durability.
3-layer high-pile
The 3-layer high-pile adds a third layer through lamination, effectively reducing the pile loss and reverse penetration problem. To do this, manufacturers must first use natural yarn (cotton, wool) to knit the bottom layer and then use artificial or synthetic yarn (viscose, polyester) to knit the pile loop. Afterwards, the pile loop is cut off to form the pile, and a third layer is added via lamination.
While this method is certainly effective in solving pile loss and reverse penetration, it also exhibits some acute disadvantages. First, adding a laminated layer is quite labor intensive and can add substantial cost to the production process. Second, the laminated layer both makes the fabric heavier and also reduces breathability — neither of which are ideal in our athletically inclined society. 
Future of 3-layer high-pile
Luckily, the aforementioned disadvantages can be solved using a brand new knitting technology that can simultaneously knit the 3-layer structure — including the pile on the top layer — significantly diminishing costs.
Not only is this the most efficient and economical method for producing 3-layer high-pile fabric available on the market today, a single-piece knitted structure is much stronger than a laminated structure.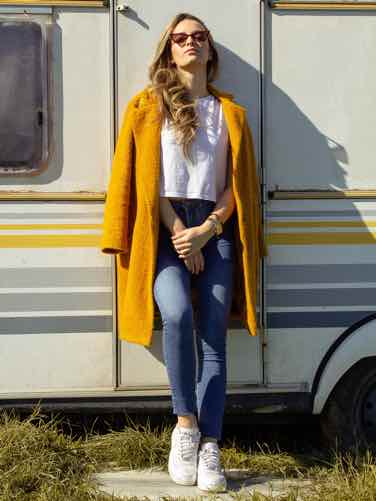 Furthermore, this technology can knit each layer using a different yarn, or into fabrics with different densities, creating a sweat-wicking effect. Additionally, the fabric can be knit using a 3D structure — such as spacer fabric — to help improve breathability. This technology allows
wearers to simultaneously reap the benefits of the softness and warmth high-pile fabric, and breathability of spacer fabrics.
New technology pushes athleisure further ahead
The new 3-layer high-pile technology will create exciting opportunities across all factions of the athleisure ecosystem. Brands will be able to use this fabric to create athletic-inspired clothing, enticing even more customers with fabric that is at once soft, luxurious, and comfortable. Fabric developers, on the other hand, will be able to spice up their offerings with different combinations of materials. As more customers are looking for clothes that are warm, comfortable, and moisture-wicking — and manufactures are under pressure to meet increasingly tight deadlines — the new generation of breathable and lightweight 3-layer high-pile is bound to be a welcome addition to the athleisure market.
Pailung
Pailung, an internationally renowned knitting machinery company, operates at the cusp of fabric innovation, and has accumulated years of experience working closely with brands and fabric developers to create cutting-edge knitting technology. Their most recent contribution to fabric innovation is a new production method for knitting 3-layer high pile, developed using exclusive cam and needle research and development and a special operation mode adjustment; Pailung has already obtained patents for both the knitting method and mechanism. At ITMA 2019 in Barcelona, Pailung will showcase a number of innovative technologies, including knitted 3-layer high pile fabric and the corresponding knitting method.
For those interested in learning more, please come visit Pailung at ITMA Barcelona
at Hall 8-B206.
Web: http://www.pailung.com.tw