Toronto - Textile computing specialist Myant, which already offers a high-tech partnership with German flat knitting machine builder Stoll, will unveil the Digital Textile Exchange (DTX) at this week's CES 2020 exhibition in Las Vegas.
DTX is described as a digital manufacturing platform that connects the network of stakeholders in the advanced textile innovation value-chain to enable unprecedented levels of efficiency, quality and consistency.
By connecting existing manufacturers, inventors, startups, and academia with knitting machines and textile producers all working under a new universal set of standards, Myant says that DTX will streamline the process of going from idea to mass-scale production for advanced textiles.
The first knitting machine partners on the DTX will be Stoll. Building upon a relationship that started in December 2017, Myant now has an exclusive global partnership for textile computing applications with Stoll with the knitting machine manufacturer on-hand at Myant's Booth at CES 2020 (Sands Expo, Booth 43925) for the inauguration of the DTX. Stoll will also be demonstrating the new knitelligence generation of machines featuring the STOLL-knitrobotic technology.
STOLL-knitrobotic represents a major breakthrough for the textile computing industry, allowing the integration of microelectronics and other features into textiles during the knitting process in a fashion similar to the way pick-and-place machines do in microelectronic fabrication.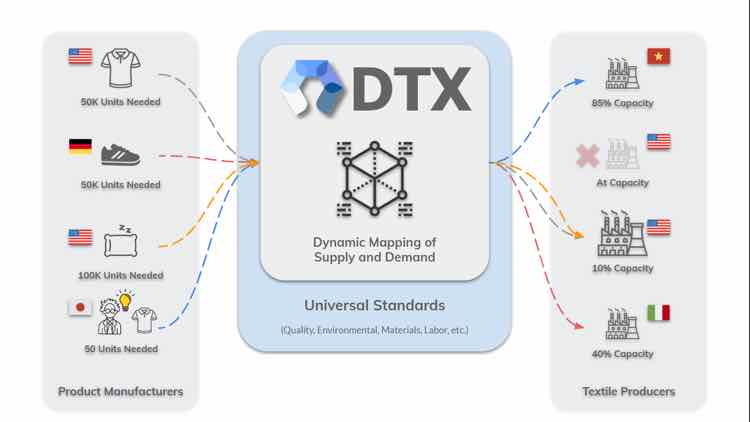 The Stoll knitelligence line of machines includes many other features that are critical to Textile Computing including a cloud management software where proprietary processes, designs, and other IP will be protected, as well as remote training and production management. Stoll's knitting machines will be the first to be connected to DTX, opening up a new realm of possibilities for its customers.
Myant says it will also be adding other knitting machine manufacturing partners to DTX that can support warp knitting and circular knitting, enabling innovators to realize whatever vision they have in mind.
Log in or subscribe to see this content