Reutlingen - Flat knitting machine builder Stoll will exhibit at the upcoming Pitti Filati exhibition in Florence this month.
With the show taking place under the theme, 'Show your Flags' the Stoll booth in the Fashion at Work section will not only feature the company's flag at booth F/3, but will also offer the ideal opportunity for Stoll to host seminars for designers who are curious to understand how the latest ADF technology contributes to product innovation.
The seminars will take place on January 22 at 2pm (in English) and at 3:30pm (in Italian) in the Area Monumentale, 1st floor, meeting room.
Visitors wishing to attend the seminars should register via email to This email address is being protected from spambots. You need JavaScript enabled to view it..
Pitti Imagine Filati will be held from 22-24 January, 2020 in Florence. Stoll will be located at the Central Pavilion at booth F/3 (lower floor area Fashion at Work.
Materialization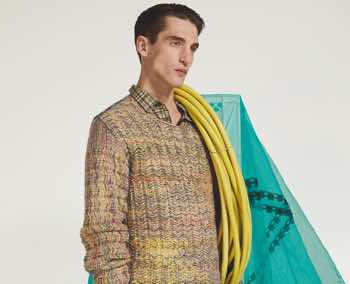 Stoll will also be showcasing its recent trend collection, Materialization, with which the company says it has broken new ground in terms of design, materials and processing.
In doing so, Stoll says it faced the challenge of using difficult-to-knit materials and processing them in the best possible way. Although mainly using ADF technology, other machine types were also utilized to demonstrate the versatility of the company's machines and technology.
The collection was first exhibited at ITMA Barcelona and more at the recent SpinExpo in Shanghai.
Highlights of the collection include:
New opportunities in knit and wear thanks to the latest ADF technology: the new ADF 830-24 ki knit and wear combines many knitting techniques such as reverse plating, STOLL-weave-in , and STOLL-ikat plating – not previously possible in the field of knit and wear.
Foreign- and difficult-to-knit materials: in this collection, unusual yarns or materials were processed for the flat knitting sector. For example, cut plastic foil was used as well as polypropylene tapes from the food industry. The Stoll machines easily processed these materials and others.
Ribbon yarns were inserted using a special unwinding device: ribbon yarns tend to spin in the knitting process. The special unwinder used bypassed this problem, and Stoll was able to achieve the desired effects.