Wakayama - Flat knitting solutions provider Shima Seiki will participate in the upcoming India ITME 2022 exhibition where it will focus on proposals in seam-free WHOLEGARMENT knitting technology that offers an alternative to labour-intensive manufacturing in India and other international markets.
India's textile industry is seeing rapid growth in both the domestic market and demand for exports. At the show, which takes place at the India Expo Centre & Mart in Greater Noida from 8-13 December, Shima Seiki plans to show the latest sustainable solutions that can keep up with this growth, through its exhibit of the latest in knitting technology for both WHOLEGARMENT and shaping, as well as the latest in DX solutions utilizing virtual sampling.
On show will be the MACH2XS WHOLEGARMENT knitting machine with original SlideNeedle on four needle beds and spring-loaded moveable sinker system supporting a wide range of high-quality WHOLEGARMENT knitting in all needles. The range of usable yarn and material has increased as well, thanks to i-DSCS+DTC as standard equipment, important to a market with a solid spinning industry.
Meanwhile The N.SVR123SP computerized knitting machine features a special loop presser bed, capable of producing hybrid inlay fabrics with both knit and weave characteristics. Demand for such novel fabrics is very high across a wide range of applications, from fashion apparel to sportswear, innerwear, outerwear, uniforms and other functional clothing, as well as home furnishing and technical textiles.
The N.SVR123SP at India ITME will feature the special i-Plating option, capable of alternating yarn colours in any pattern, producing jacquard-like designs using plain jersey stitch for even greater diversity in knit design.
Demonstrations will also be performed on Shima Seiki's SDS-ONE APEX4 design system. At the core of the company's "Total Fashion System" concept, SDS-ONE APEX4 provides comprehensive support throughout the production supply chain, integrating production into one smooth and efficient workflow from yarn development, product planning and design, to machine programming, production and even sales promotion. Especially effective is the way SDS-ONE APEX4 improves on the product planning and design evaluation process by replacing physical samples with digital prototypes. Based on photo-realistic simulations, these virtual samples minimize the need for actual sample-making, realizing significant savings in time, cost and material and contributing to sustainable manufacturing.
APEXFiz is subscription-based design software that maintains the proven functions that have made SDS-ONE APEX series design systems so popular with fashion designers. Installed on personal computers, those strengths are now enhanced with the added versatility to adapt to different work styles and business environments including teleworking and telecommuting.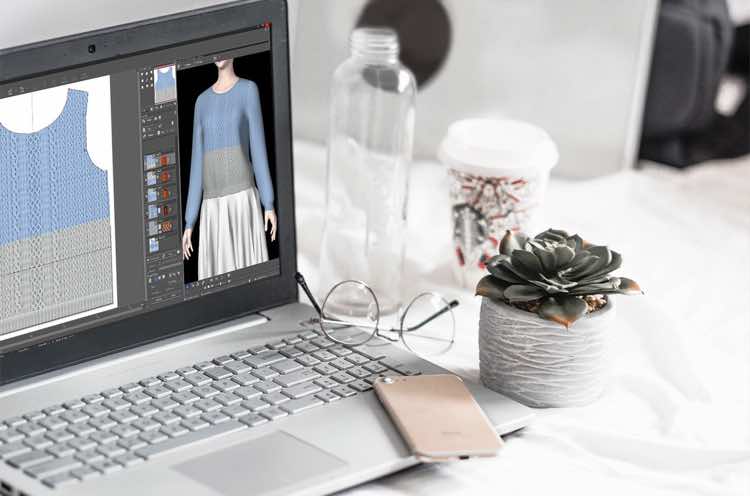 APEXFiz software supports the creative side of fashion from planning and design to colorway evaluation, realistic fabric simulation and 3D virtual sampling. Virtual samples are accurate enough to be used effectively as prototypes, replacing physical sampling and consequently reducing time, cost and material that otherwise go to waste. APEXFiz thereby helps to realize sustainability and digitally transform the fashion supply chain. APEXFiz is available in 5 different product variations that can be selected according to the customer's needs, from APEXFiz Design Jr. to APEXFiz Design Pro.
At India ITME, Shima Seiki can be found at Booth No.: H1A8.