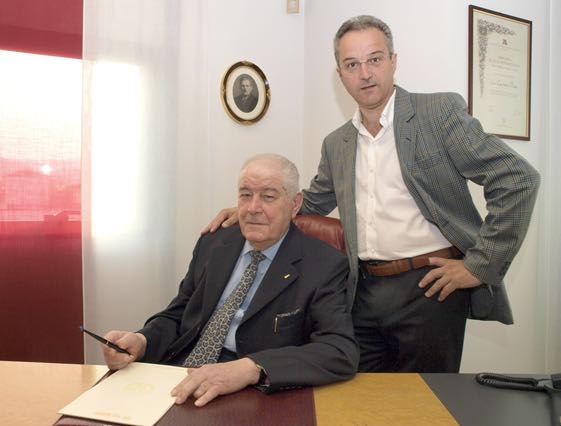 Giovanni Busi, the founder of Busi Giovanni Srl and his son Gianmario Busi have passed away. Giovanni's daughter Catina and the family's next generation will now ensure the future success of the Brescia-based hosiery and sock knitting machine manufacturer.
Italian sock knitting machine builder Busi Giovanni has announced the passing of company founder Giovanni Busi and his son Gianmario Busi.
Giovanni Busi founded Busi Giovanni Srl in 1958 aged just 32. The company initially modified sock knitting machines by installing a patented device of its own invention (BREBUS) - converting machines for women's socks to produce terry sports socks.
In 1967, Mr. Busi designed and constructed the first Busi single-cylinder sock machine with rib needles in the dial. From then on, production was almost completely dedicated to manufacturing machines for the production of true rib socks, allowing the company to stake a claim as the most experienced in the market with this type of machine.
In 1996, Giorgio Fossa, President of Confindustria, presented Giovanni Busi with an award in recognition of his more than 50 years of dedication to the company and for remaining active in the company in a full time capacity at the age of 70.
Born in 1960, Gianmario Busi began to assist his father in 1986, collaborating in the design of new machinery following his graduation with a degree in Mechanical Engineering from the University of Brescia.
The following years saw the development of a range of new technologies for the global hosiery and sock knitting sector emerge from the family firm with Gianmario completing the creation of the first electronic selection model of Busi socks machines in 1986 and the first model with full electronic control in 1990.
In 1996, Gianmario assumed the position of General Manager of Busi Giovanni S.R.L., assuming the role of coordinator of all research and development activities.
Under Gianmario's technological direction, the company continued to achieve a number of important milestones including in 1998 when it acquired the LIN-TOE patent, the first toe-closing solution available on the market; 2005, when Busi developed the Rimaglio, system, which is still regarded as the most advanced system for loop-by-loop linking of the toe of the sock; and 2015, when Gianmario acquired the European Patent for the Busi Twin Layer machine.
Further ground breaking innovations followed such as the the Rimaglio 2.0 toe-closing device, the J-Terry, Doppio and Doppio Terry machines as well as the state of the art medical range.
Renowned across the industry, Gianmario also personally created customized socks for Pope Ratzinger and received a letter of thanks from the Vatican. His passion for the hosiery and sock industry was also represented in his personal life with his love of singing making him a popular figure in the local church choir.
Legacy
With Giovanni's and Gianmario's passing, the family and industry have lost great innovators, both men renowned across the industry. Their legacy though is a company in an extremely strong position, strongly led by Gianmario's sister Catina in a management role, Gianmario's son Leonardo, who supervises the technical and production departments, and the highly experienced Michele Castagna who takes care of commercial, export and marketing aspects.
In a statement, Catina Busi said: "I have lost, in tight sequence, my adored brother Gianmario and my beloved father Giovanni, founder of our company. With Gianmario I was used to sharing the company's everyday life, working a few metres one from each other, talking so often about topics related to our production, our technical department and so on, while my father kept on spending hours, every day, walking through the various areas of "his creature", talking to any of our employees and still dispensing his technical suggestions, coming from his incredible experience.
"Obvious to say, that I will terribly miss them, for the rest of my life, but on the other hand I am extremely encouraged and reassured by what I can see around me, in the light of the continuity of our company: my older nephew Leonardo, 26 years old, with an engineering background, has already joined the Busi team and in a humble and proactive way, is learning from anyone, supporting and respecting all of our collaborators. My younger nephew Francesco, 24 years old, is still completing his studies, but is also spending time at the factory and beginning to learn as an apprentice, with the same mature attitude as his older brother, humbly and respectfully.
"It is of course not only the family that makes me feel encouraged and reassured: beyond Gianmario, who undoubtedly used to be the "technical brain" of our company, we do rely on several highly skilled and experienced collaborators, who are incredibly dedicated and committed in the technical department and production areas. They have different family names, but with certainty they belong to the Busi team. Same thing that I may say about Michele Castagna, our Export and Marketing Manager, who has been positively supporting us for several years, already, and will certainly keep on doing his best to make us grow, as a company and as a team.
"Great sorrow, great pain… the will of God, in the end, that each of us must accept… but I am definitely optimistic, having built, over the past years, a solid team of fantastic people, who proved their value and effectiveness when Gianmario fell ill and was often absent from his factory commitments, so I have no doubts at all and only optimism, as far as the future of our company is concerned."