Milan - Italian warp knit specialist Cifra has been accredited to the STeP certification process from Oekotex.
The company, which is renowned for its Warp Knit Seamless (WKS) technology, has also launched a new website dedicated to its new hosiery and lingerie offering.
The STeP standard certifies aspects of environmental protection, health and safety of workers, and ethics and chemical safety of products. STeP covers the entire company and all textile production processes: from spinning, weaving, and finishing, to packaging and logistics.
"This certification confirms Cifra as a pioneering business partner in its research for materials and the development of activities with a low environmental impact," the company said.
Accompanying this, and in line with the company's current hosiery and lingerie relaunch plan, Cifra has also unveiled a new website - www.hosiery-cifra.com - which is designed to highlight the company's know-how and expertise in this sector. Cifra also hopes to create a solid synergy with customers for the creation of custom-made products.
"Thanks to the most modern in technologies, creating any type of design or size is truly possible," Cifra said. "In addition to the vast range of stylistic offerings available to clients, new customized designs are created daily in conformance to even the most detailed specifications. This makes it a sort of atelier that allows customers maximum freedom in designing every single detail.
"The Style Office - which follows customers' requests for customization - can accommodate customer's needs not only in terms of stylistic choices but also in terms of shapes and sizes, from the smallest - even for young girls - to extra large ones as well."
According to Cifra, its hosiery is produced using both pre and post-consumer sustainable yarns, which are traceable and certified to as part of the company's zero waste program.
Production
Cifra operates a range of Karl Mayer double needlebar jacquard raschel machines producing a wide variety of seamless bodywear for some of the world's leading brands and private labels.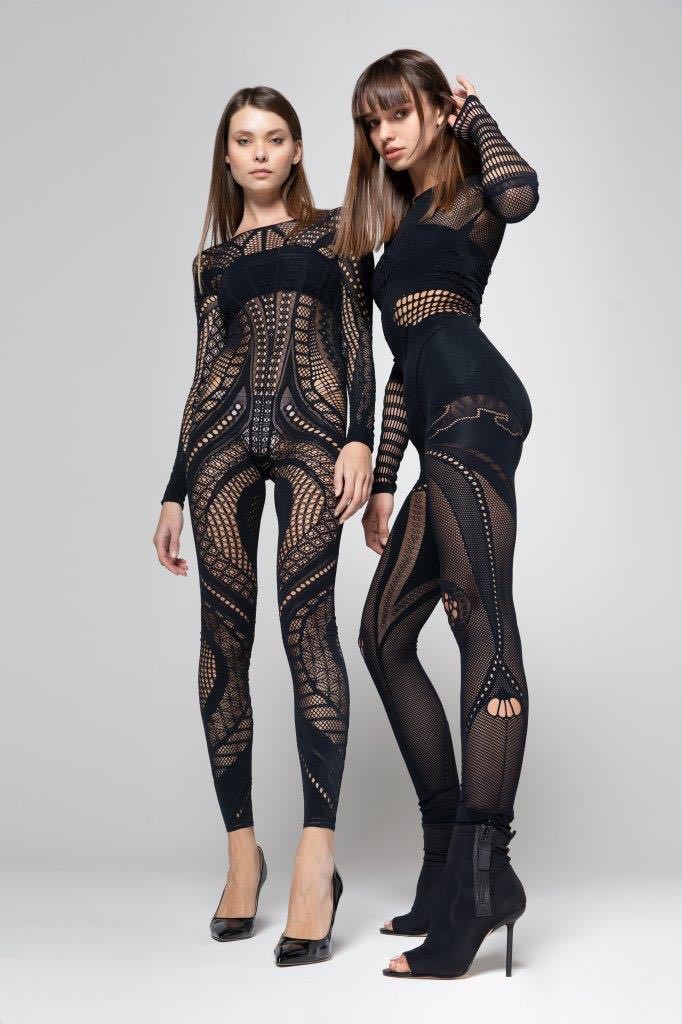 As well as a bank of 18 Karl Mayer RDPJ 6/2 N double needlebar jacquard raschel machines, the Milan-based company also runs a Seamless Smart machine after becoming one of the first European companies to take delivery of the system back in 2008.
Cifra has been producing seamless garments for private labels for more than 20 years with production mainly taking place on raschel jacquard machines (warp knitting seamless) and includes tights, leggings, knee-highs as well as seamless garments for underwear, outwear and sportswear.
With this level of technology behind it, Cifra can now boast some of the worlds best know brand and private labels amongst its customers including Golden Lady Group, Filodoro, Gizeta, Sanpellegrino and Franzoni, Hanes Hosiery, Falke, Wolford and Le Bourget.
While all Cifra's designs are unique and each customer is guaranteed exclusivity of the chosen design, new styles and new sizes are also developed.
Given the complexity of the production technique, the significant investments made by the company in recent years and its expansive research and development programme, Cifra also has a long history of protecting itself and its customers with many ornamental and technical patents.
The company has also recently produced an innovative and hi-tech range of protective masks called Warp-Mask, which will be used to help in the country's fight against COVID-19 (coronavirus).
Cifra says it developed and introduced this product onto the market in just few days. "I thought about how I could make myself with my company available to cope with this terrible pandemic," Cifra CEO Cesare Citterio said. "And we came up with the design of a hi-tech mask that is guaranteed to be OekoTex Standard 100 certified, warp-knitted, double-layered, water-repellent, knitted in one without seams for optimal comfort, sterilized, washable up to ten washes and all designed and made in Italy."
Engineered by Cifra WKS system, Warp-Mask is a high-tech double-layer, run-proof and water repellent mask, which "Perfect Skin technology, perfectly adheres to the nose and to the mouth".
Each mask is made with polyamide (80%) and Lycra (20%) multifilament yarn - where the high percentage of Lycra and PerfectSkin technology guarantee perfect face adherence, to ensure the covering of both nose and mouth.
The fabric is doubled for a more compact and ultra-run-resistant structure and uses HeiQ Eco-Dry technology, which offers fluorocarbon-free durable water repellence (DWR), making them washable and therefore reusable, as well as Fresh-tech which offers antibacterial resistance.