Monday, 27 March 2017
Obertshausen - Warp-knitted spacer textiles were originally the domain of technical and semi-technical applications they are now making inroads into the clothing sector.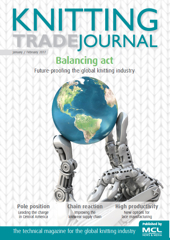 In the latest issue...
The January-February 2017 printed edition of Knitting Trade Journal, the leading technical magazine for the global knitting sector, is now available.
This issue includes the second part of our comprehensive review of the recent ITMA Asia + CITME exhibition including a detailed look at some of the latest developments in the flat knitting sector.
This issue also explores the latest innovations from the warp knitting sector as well as a detailed look at the knitting industry in Guatemala.
There are also reports from some of the latest trade shows from our correspondents at key exhibitions and some of the latest developments from yarn and fibre sector.
The January-February issue of Knitting Trade Journal also features all the latest, and original, industry news, insight and new patent developments.
The new 2017 media kit for Knitting Trade Journal is also now available. Email info@mclglobal.net for more information.

CLICK HERE for a magazine subscription and full access to this website and our weekly e-newsletter.
You can also download our updated, cross-platform, mobile device app, then follow the on-screen instructions to log-in using your knittingtradejournal.com e-mail address and password.
The app is a free download which now provides unique content to the 14,000+ signed up members of the Knitting Trade Journal website, including access to the latest industry news, features and archived material, breaking news alerts and a smart search facility.

Wednesday, 29 March 2017

Dhaka - Bangladesh has been highlighted by Mayer & Cie as one of its most important target markets with the circular knitting machine builder returning from the recent DTG Dhaka exhibition with...


Wednesday, 29 March 2017

Portland - The global elastane fibre market is expected to reach US$10,482 million by 2022, registering a CAGR of 8.8% during the period 2016-2022.

Read More
Read More
Invista introduces hosiery fitting technology

Tuesday, 28 March 2017

Wichita - Invista has applied its Lycra Made To Fit You technology to the knee-high socks sector, a process that it has previously utilised in other areas of the hosiery industry.

Shima Seiki to display latest cutting technology

Friday, 24 March 2017

Mexico City - The latest computerized cutting machine from Shima Seiki will be on display later this month when the company participates in the Expo Producción textile and machinery show to be held...

Read More
Read More
Needles in OEM quality for single cylinder sock machines

Thursday, 23 March 2017

Schramberg - Kern Liebers says it is offering a range of the latest hosiery machine needles that meet the specifications of the highest level OEM's as well as a range of machine parts that are...

Korean spinner swoops for Buhler

Thursday, 23 March 2017

Georgia - A Korean cotton spinner has signed an agreement to acquire Buhler Quality Yarns, the American subsidiary of Swiss yarn maker Hermann Buhler,

Read More
Read More
New knitted fabric plant to begin operations

Tuesday, 21 March 2017

Taipei - Taiwanese textile giant Far Eastern New Century Corp is set to open a new plant in Vietnam for the production of knitted fabrics. The capacity expansion plans are parts of the company's...

Stoll to unveil new collection at Milan design event

Tuesday, 21 March 2017

Reutlingen - Flat knitting machine builder Stoll will unveil its latest trend collection during the prestigious Milan Design Week in April. On display will be the latest developments from Stoll which...

Read More
Read More