Thursday, 20 July 2017
Reutlingen - Flat knitting machine builder Stoll has launched a new networking system which combines all of the company's software products that are required for textile production. Read More >>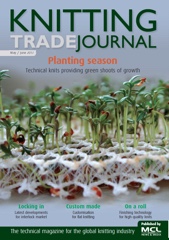 In the latest issue...
The May-June 2017 printed edition of Knitting Trade Journal, the leading technical magazine for the global knitting sector, is now available.
This issue includes a special feature on the technical textiles sector including a report from the recent Techtextil exhibition.
This edition also includes details of the latest developments from the flat knitting sector.
There are also reports from some of the latest trade shows from our correspondents at key exhibitions and some of the latest market developments from the yarn and fibre sector.
The May-June issue of Knitting Trade Journal also features all the latest, and original, industry news, insight and new patent developments.
The new 2017 media kit for Knitting Trade Journal is also now available. Email info@mclglobal.net for more information.

CLICK HERE for a magazine subscription and full access to this website and our weekly e-newsletter.
You can also download our updated, cross-platform, mobile device app, then follow the on-screen instructions to log-in using your knittingtradejournal.com e-mail address and password.
The app is a free download which now provides unique content to the 14,000+ signed up members of the Knitting Trade Journal website, including access to the latest industry news, features and archived material, breaking news alerts and a smart search facility.
Thursday, 20 July 2017

Brescia - Seamless knitting machine manufacturer Santoni has teamed up with nylon yarn specialist Nilit to create a new capsule collection of high performance athletic wear, which will be unveiled at...


Wednesday, 19 July 2017

Paris - This September's Premiere Vision will see the launch of a new Country Focus aimed at showcasing a particular country in a dedicated space. The first country to feature in Paris will be...

Read More
Read More
Lyocell market to hit $1.5bn by 2024

Wednesday, 19 July 2017

Delaware - The lyocell fibre market is to expected to reach US$1.5 billion by 2024, driven by evolving fashion trends and a demand for more environmentally friendly textiles and clothing.

VDMA highlights wider benefits of textile machinery

Wednesday, 19 July 2017

Frankfurt - The VDMA has a series of multimedia reports aimed at explaining how textile machinery technology has a wider impact on people's lives.

Read More
Read More
Latest technology is custom made for flat knitting

Tuesday, 18 July 2017

Wakefield - Knitting Trade Journal's new correspondent, Connie Huffa, explores the development of mass customization in the flat knitting industry.

Knitted fabrics certified for performance

Tuesday, 18 July 2017

Wilmington - US circular knitter Best Pacific says it is aiming to stand out at the upcoming Outdoor Retailer Summer Market show in Salt Lake City when it debuts one of the first lines of...

Read More
Read More
Nike unveils Flyknit sports bra

Thursday, 13 July 2017

Beaverton - Nike has expanded the use of its Flyknit technology with the development of a sports bra which, using the latest flat knitting techniques, has a reduced number of seams, weight and areas...

Shima Seiki to demonstrate supply chain support

Thursday, 13 July 2017

New York - Shima Seiki will return to the Première Vision show in New York this month where it will once again participate in the new 'Manufacturing' area dedicated to technical and logistical...

Read More
Read More